Install WordPress first
Many web hosts can automatically install WordPress for you. If you wish to do this yourself, check the following resources:
Download the Theme from your buyer account
The file you must download in in your buyer account from Theme Forest: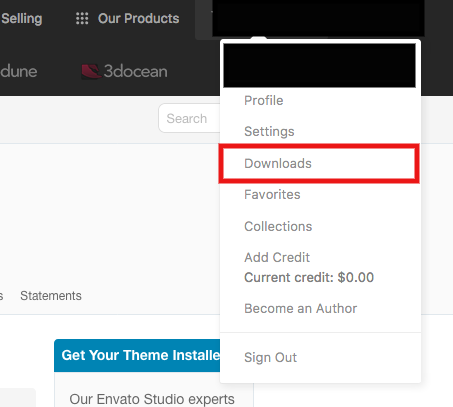 "Installable WordPress File" – is the zip that includes  only the theme files (wpresidence.zip)
"All files & documentation" – is the zip that includes all the files offered with the theme (wpresidence.zip + recommended child theme + theme original property markers and more
Install WpResidence Theme
Before you Install the theme please be sure you have Requirements for installing any WordPress theme: http://help.wpresidence.net/article/theme-wordpress-server-requirements/
Install WpResidence via WordPress
Step 1. Navigate to Appearance > Themes
Step 2. Click Add New and click the Upload button.
Step 3. Browse to find the 

wpresidence.zip

 file on your computer and click Install Now
Step 4. Activate Residence from  Appearance > Themes
Step 5. After you activate Residence you will see a notification message to activate the required plugins in the Plugins section of your dashboard.
IMPORTANT:
– Visual Composer & Wp Residence Core Functionality plugins are required. Install them before you activate the theme!
– Ultimate Addons, Revolution Slider and EWWW Image Optimizer are Recommended. 
– One Click Demo Import is needed only when you import demo content. You can delete it after that.
IMPORTANT: The notifications from Visual Composer, Rev Slider or Ultimate Add-ons that you need the purchase license code to get automatic updates is just for clients who buy the license. We bought the commercial license so we can offer these plugins for free to our clients with WP Residence theme. All updates will be offered through our theme updates.
Install WpResidence via FTP
Step1: Download only "All files and documentation", unzip the theme pack and find the wpresidence folder.
Step2: Upload the folder wpresidence folder contents to the wp-content/themes folder on your server – via FTP Manager
Step3: Activate the theme in the Appearance / Themes menu in WordPress Admin.
Step4: Activate Plugins from header notice and start using them right away.
IMPORTANT: Is MANDATORY to install Wpresidence -Theme Core plugin in order to utilize WpResidence theme functionality.
Activate WpResidence Theme
IMPORTANT: You must do this only once after you update or install WP Residence v 1.30.4. This will not be required again for future updates, unless you decide to reset database and start over.

IMPORTANT: Is MANDATORY to install Wpresidence -Theme Core plugin in order to utilize WpResidence theme functionality.
1. Login in Theme Forest with your buyer account.
2. Go to Downloads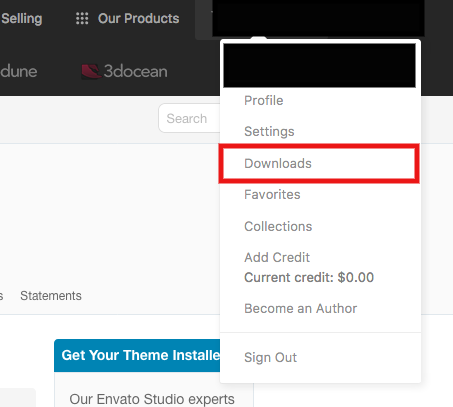 3. Go to your purchase and select License Certificate and Purchase Code

Copy the buyer code from the text file

4. Activate the WP Residence Core functionality plugin
5. Paste the code in theme options and click the button "CHECK LICENSE".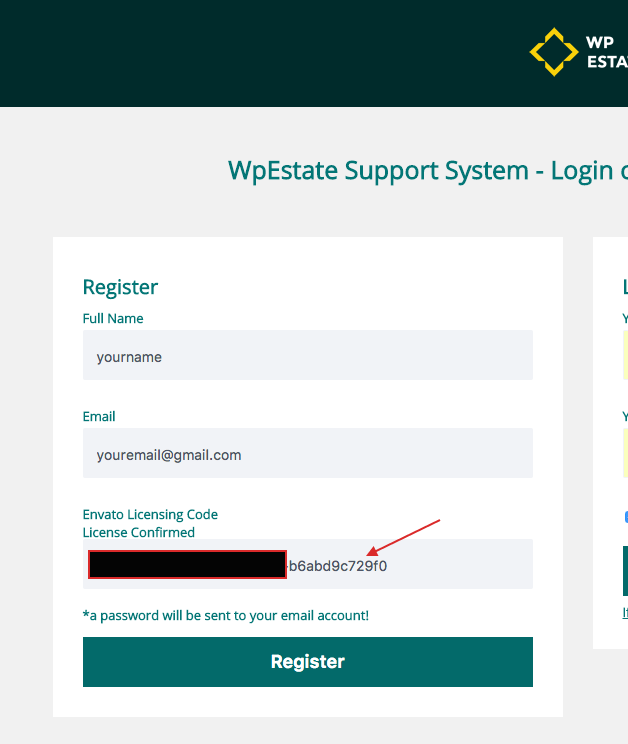 Install Plugins
The Residence includes 6 plugins that will need to be installed and activated:
WpResidence  Core functionality – MANDATORY
One Click Demo Import – mandatory to import demo, but can be deleted after that

Slider Revolution – optional, but recommended if you wish to create advanced header sliders

WP Bakery Visual Composer – optional, but recommended for row / columns effects and extra shortcodes

Ultimate Addons for Visual Composer – optional (you can use it to add extra shortcodes to those already offered in Visual composer)

EWWW Image Optimizer (optional – you can use this to optimize your site images, or choose other free / paid versions that do the same thing)
When you install WpResidence theme you will get a notification message in your WordPress admin telling you of the required and recommended plugins.
WpResidence Theme Required Plugin
IMPORTANT NOTE: The Wpresidence -Theme Core Functionality plugin is only available in WpResidence version 1.40 or higher.

IMPORTANT NOTE: Wpresidence -Theme Core Functionality plugin must be installed and activated in order to utilize WpResidence theme functionality.
Recommended Plugins
Revolution Slider, WPBakery Visual Composer and Ultimate Addons for Visual Composer plugins are premium plugins that are bundled with WpResidence and do not require additional licensing in order to use with the theme.
Slider Revolution: This is a premium slider plugin created by ThemePunch.
WPBakery Visual Composer: This is a premium slider plugin created by WpBakery.
Ultimate Addons: A premium plugin created byBrainstormForce
EWWW Image Optimizer: A free plugin created by Shane Bishop
One Click Demo Import: A free plugin used for demo import.
Plugin installation & update notification
When you install Residence or update Residence, you will receive a WordPress notification message letting you know to install or update the required and recommended plugins. Please follow the on-screen prompts to install, activate or update.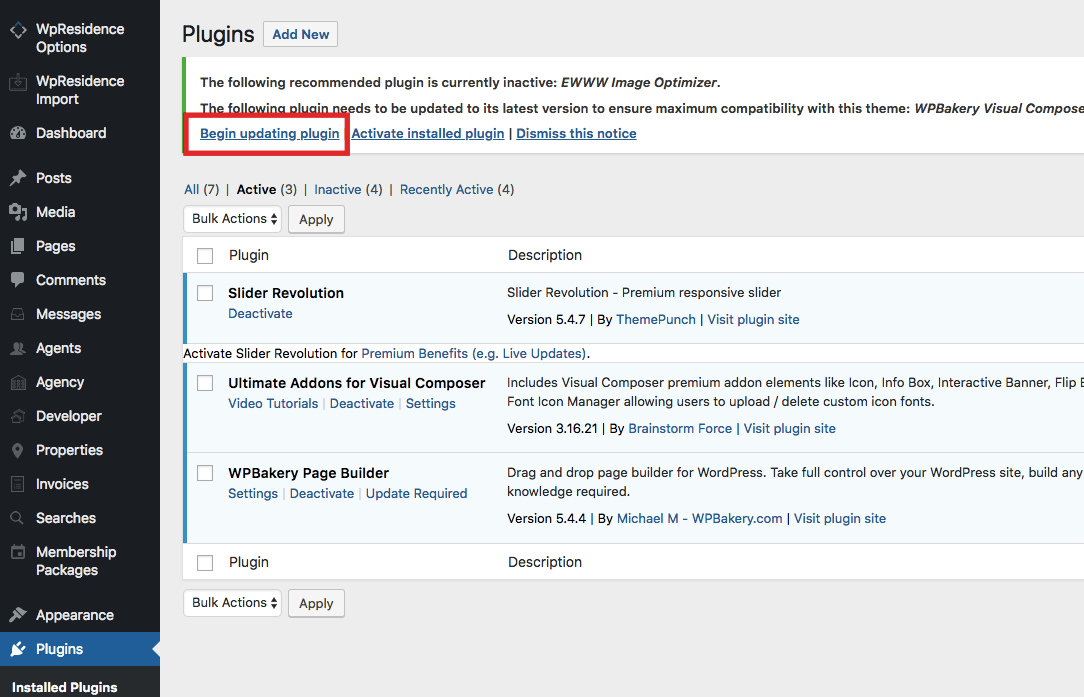 NOTE: 
Licence code for Visual Composer and Revolution Slider is not include.  However you can use them freely or activate your 
license
 (if you have) to get plugin update. This it is the Envato policy, also authors of these plugins not allow any theme developer to provide Purchase Code for third party plugins. Anyway we provide plugins latest version within theme update so your website will always stay updated and secure. 
Import Demo Content
Many issues that you may run into such as: white screen, your demo import fail and other similar issues are all related to low PHP configuration limits.
Check the Recommended PHP Configuration Limits
max_execution_time 600
memory_limit 128M
post_max_size 48M
upload_max_filesize 48M
IMPORTANT: In order to get included demos must make sure you activated the theme.
Step1: Go to

Import Demo:
Step2: You will find all demo already uploaded –  only need to import the one that you like.
Step3: You will see this during import:
Step 4: When import is done you get this message:
Step5: Delete the import plugin (optional)
Check the shortcodes ids to match your wordpress database ids
*After you import the content you may need to edit certain pages and assign the correct category id for some shortcodes. Help to see correct ids:
Create and add the Google Maps API key:
This is mandatory for the map to display. Check the help below.
Import the sliders manually
Add separately any slider from demp_content folder.
Go to Revolution Slider – Import. Select the revolution slider zip from demo_content/revolution sliders – and click import.
Import from revolution slider main settings
Check Ultimate Addons settings
***Make sure that for Ultimate Addons these settings are done: Ultimate – Scripts & Styles –
Optimized CSS – ON
Optimized JS – ON
For client support please open a ticket at http://support.wpestate.org/
The Child Theme
It's recommended to install and activate also the Child Theme provided with Residence theme pack if you plan to make your own code modifications.
A child theme automatically inherits the parent theme's features, styles, and templates. This allows you to make changes to your site using child themes without ever modifying the parent theme. When a new version of the parent theme arrives, you can safely update it as all your modifications are saved in the child theme.
A child theme built on a powerful theme framework allows a great deal of flexibility without writing a lot of code. You can selectively modify only the template files and functions that you need without going through other template files. You can add new functionality and much more. (from http://www.wpbeginner.com/beginners-guide/wordpress-child-theme-pros-cons/)
Please keep in mind that theme customization services ARE NOT included in the client standard support. Our support team cannot do code modifications for you.
Item support is a service provided directly by us through the FreshDesk ticket system. Support is limited to questions regarding the theme's features or problems with the theme. We are not able to provide support for code customizations or third-party plugins. If you need help with anything other than minor customizations of your theme, we suggest searching for a WordPress developer on studio.envato.com.
Full Themeforest support policy is available here for further information (https://themeforest.net/page/item_support_policy).