The Display Categories shortcode allows you to show Category, Action, City, Area and County on front end.
This shortcode has 2 design variations. You can see them here: https://wpresidence.net/20395-2/
Add shortcode from the classic editor with WPBakery Page Builder

You can follow the steps in the below video tutorial:
Please note that the video is made with an older version of the theme and the shortcode worked with taxonomy ID, now you need to type the taxonomy name.  The steps are the same.
How the shortcode works:
Add the shortcode in your page.
Set the shortcode as per your wish by typing the name of the taxonomy that you wish to add, items per row and design type.
Add shortcode block in Gutenberg editor
Wp Residence is WordPress 5.0 ready and fully Gutenberg Ready! Wp Residence 1.50.1 – Includes WpResidence Gutenberg Blocks for clients who wish to use Gutenberg (WordPress 5.0 Newest Editor) instead of classic editor with WPBakery Page Builder builder.
Help for theme update: http://help.wpresidence.net/article/how-to-update-the-theme/
To add a new block, all you need to do is click the +Plus icon and select the type of content you want to add. Theme shortcodes are inside WpResidence Blocks category:
Select Categories List  block: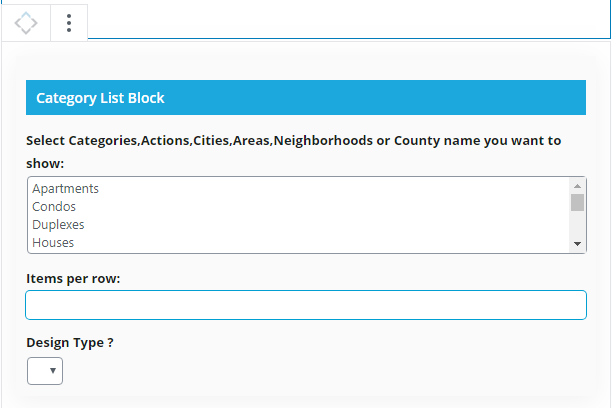 You must Select Categories,Actions,Cities,Areas,Neighborhoods or County name you want to show, Items per row and design type.
Please note that on front you will have 0 listing with a generic image, if you do not have an image attached to the taxonomy that you wish to display on front.
You must go int wp-admin Properties – select the taxonomy type, edit the category and add featured image to it by using upload button.
This shortcode can be used in different ways. Type 2 design works better with  1 property per shortcode and you can use visual composer row / column options to make elements show in different design variations.
Type 1 design looks good if you add more categories in the same shortcode